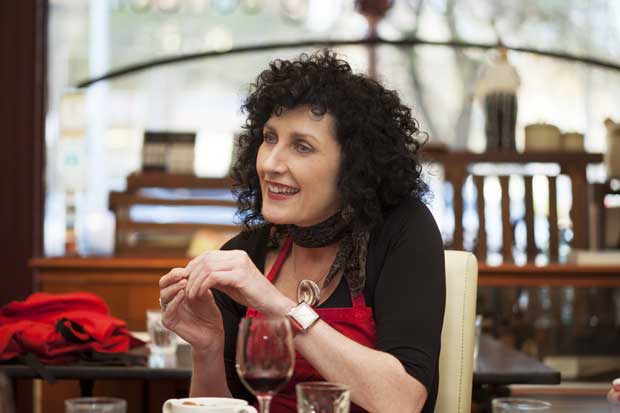 Pauline Leonard's first memory of cooking is as a six year old, standing on a box at the kitchen bench, mixing a cake batter and licking the spoon. From this early experience she was bewitched by the magic of mixing raw ingredients together to create something delicious. For Pauline, the pleasures of cooking are the aromas of soups through the house, the tactile sensation of kneading bread and pasta and the perfume from bubbling jams and relishes, soon to be bottled and shared with friends.
Pauline is also a self confessed Italophile. She loves recalling some of her most memorable dining experiences while in Italy; strolling down narrow laneways into homely restaurants, a kid goat roasting over a large open fire, and home grown tomato and basil sauce, being drizzled over freshly baked bruschetta. It's a romantic way to live, sharing your love of food with those you love.
It's this life-long joy of food that Pauline shares with her students, as well as clever techniques and methods of course. She'll help you become a better cook, in a relaxed and friendly setting; no tests or tall hats, but plenty of mixing, baking, chopping and tasting. Her classses suit all levels of cooking experience.
Interview with Pauline Leonard-
Who are your favourite chefs both in Australia & overseas?
Gary Cooper-Bella Vedere, Stephanie Alexander; Rose Gray and Ruth Rodgers – The River Cafe London
Favourite TV shows associated with food & Travel?
I never watch TV (in fact I may be the only person in Australia who has never seen 'Masterchef'!)
Magazines that inspire you
Gourmet Traveller; Casa e Giardini; Cuisino NZ
What are your favourite dishes from simple to complex?
stocks and soups, because of the wonderful aroma it fills the house with all day,
bread – the joy of watching the transformation of a lump of dough into a crusty, steaming loaf
pasta – the whole process : kneading, easing the pasta through the machine; making tiny filled tortellini
jams and preserves – the perfume of the fruit as it cooks, stocking the pantry; giving jars of jam and relish away to friends
complicated and highly decorated birthday cakes – fiddling around and creating an extravaganza
…listen, this could go on for quite some time – my joy of cooking is boundless!
Most memorable dining experience?
there are many but this favourite comes to mind:
Umbria, the home of newly met friends on a cold dark night in October; small cottage at the end of a long windy road.  Glasses of Prosecco handed to us as we arrived and were shown into the kitchen / dining room; huge fireplace where on the hearth rested a large oval dish of chopped tomatoes and basil.  Over the fire was placed a large iron grate over which our host grilled the bruschetta to be served with the warmed tomatoes; then he put a fillet of beef onto the grill, splashed over a liberal amount of oil and brushed it all over with fresh rosemary branches; simple potatoes and salad they grew themselves; local wines, fresh fruit for dessert and finishing with vin santo (made by his brother) into which we dunked almond cantucci.