Have you ever wanted to attend cooking classes in Melbourne?
Taste Cook Travel's Melbourne cooking classes combine all the right ingredients! Get together a group of friends for a fabulous cooking experience. So what's stopping you?
The classes are for groups with a minimum of 8 people and dates can also be arranged to suit.
You'll enjoy the fun, seasonal, hands-on cooking classes in Melbourne that Pauline Leonard runs from various locations around Melbourne. For more than ten tasty years, Pauline has been sharing her cooking expertise with everyone from beginners to experienced cooks. At her practical cooking classes you'll get to prep, taste, mix, simmer, knead, stir and create your own delicious masterpieces, and then eat them!
So, get a group together; a team you play with, a bunch of friends, a bride with her hens, kids, singles, families, workmates, you can even hold a birthday party cooking class!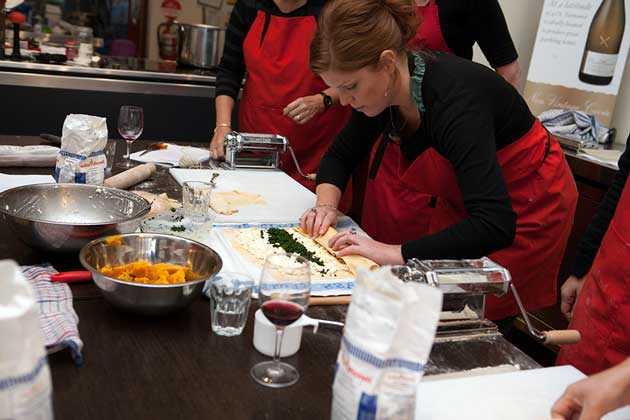 Each cooking class is themed; you may be preparing and cooking a three course Italian meal, or whipping up a series of desserts, cooking seafood five ways or making fresh pasta and bread. And once your delicacies have finished cooking – comes the best part – you all get to enjoy lunch together after the class, sampling your cuisine.